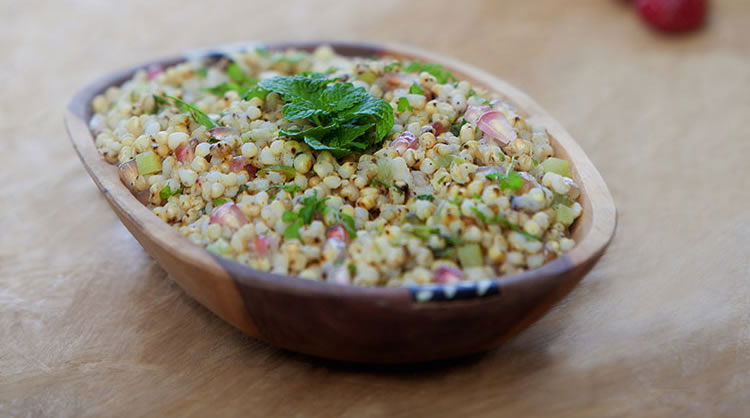 INGREDIENTS
Sorghum
cup sorghum, rinsedin a fine mesh colander
3 cups water
Lemony dressing
2 tablespoons olive oil
2 tablespoons lemon juice
¼ teaspoon red pepper flakes
¼ teaspoon fine grain sea salt
1 clove garlic, pressed or minced
Freshly ground black pepper, to taste
Everything else
3 cups baby arugula
¼ cup crumbled feta
2 tablespoons grated Parmesan cheese
Optional: 1 can (14 ounces) chickpeas, rinsed and drained
Roasted cherry tomatoes
1 pint cherry tomatoes
1 tablespoon olive oil
Sea salt
METHOD
First, cook the sorghum: Combine rinsed sorghum and three cups water in a small
pot. Bring to a boil, then cover and reduce heat to medium-low. Cook until the sorghum
is pleasantly tender but still has some chew to it, about 55 to 65 minutes. You can wait
until the sorghum is halfway cooked before proceeding with the next steps.
To roast the cherry tomatoes: Preheat oven to 200°C (400°F). Line a small, rimmed
baking sheet with parchment paper for easy cleanup. Toss the whole cherry tomatoes
with one tablespoon olive oil and a sprinkle of salt. Roast until the tomatoes are soft,
plump and starting to burst open, about 18 minutes.
To make the dressing: Whisk together the olive oil, lemon juice, red pepper flakes, salt
and pepper until emulsified.
Once the sorghum is cooked: Drain off any excess water and pour the cooked
sorghum into a serving bowl. Pour in all of the dressing, all of the cherry tomatoes and
their juices, the arugula, feta, Parmesan and chickpeas (optional). Toss well and serve.