Ingredients (serves 4)
· ½ cup foxtail millet (soaked for 6-8 hours)
· ¾ cup whole moong dal (soaked for 12 hours)
· 1 cup steamed veggies (Potatoes, Carrots, Peas, Turnip)
· Finely chopped bell peppers
· 2 tbsp infused garlic chilli oil
1 tbsp extra virgin olive oil
· 1 tsp cumin seeds
· ½ tsp turmeric
· A pinch of heeng (asafoetioda)
· Rock salt to taste
· 2 cups water to cook
Method
1. A traditional khichdi recipe calls for ghee, but here I decided to work on flavours that can make it a little more interesting. In a pressure cooker, heat olive oil, add cumin seeds, heeng, followed by millet and dal (thoroughly washed and soaked). Add adequate water, almost 2 cups for this quantity. Cook it on medium low flame for 10-15 minutes and allow the steam to de-pressure naturally.
2. Meanwhile, you can steam many seasonal veggies. I used carrots, turnips, sweet potatoes. You can even use peas, beetroot, mushrooms, broccoli, corn, etc.
3. Separately chop some veggies like red and yellow peppers, something you would love as crunchy toppings.
4. Now, once the khichdi is done at perfect consistency, start plating it as shared in the video attached. You just have to make sure you add all the veggies without making it look boring.
5. I paired my khichdi with almond bell pepper dip, millet protein bites and poured a lot of flavored oil on top of it.
6. Once all the elements are added, enjoy your khichdi hot. Make sure you experiment more with different combinations of dips and starters. Always remember to keep it colorful, healthy and fresh. Make sure you have fun with millet, even if it's millet khichdi.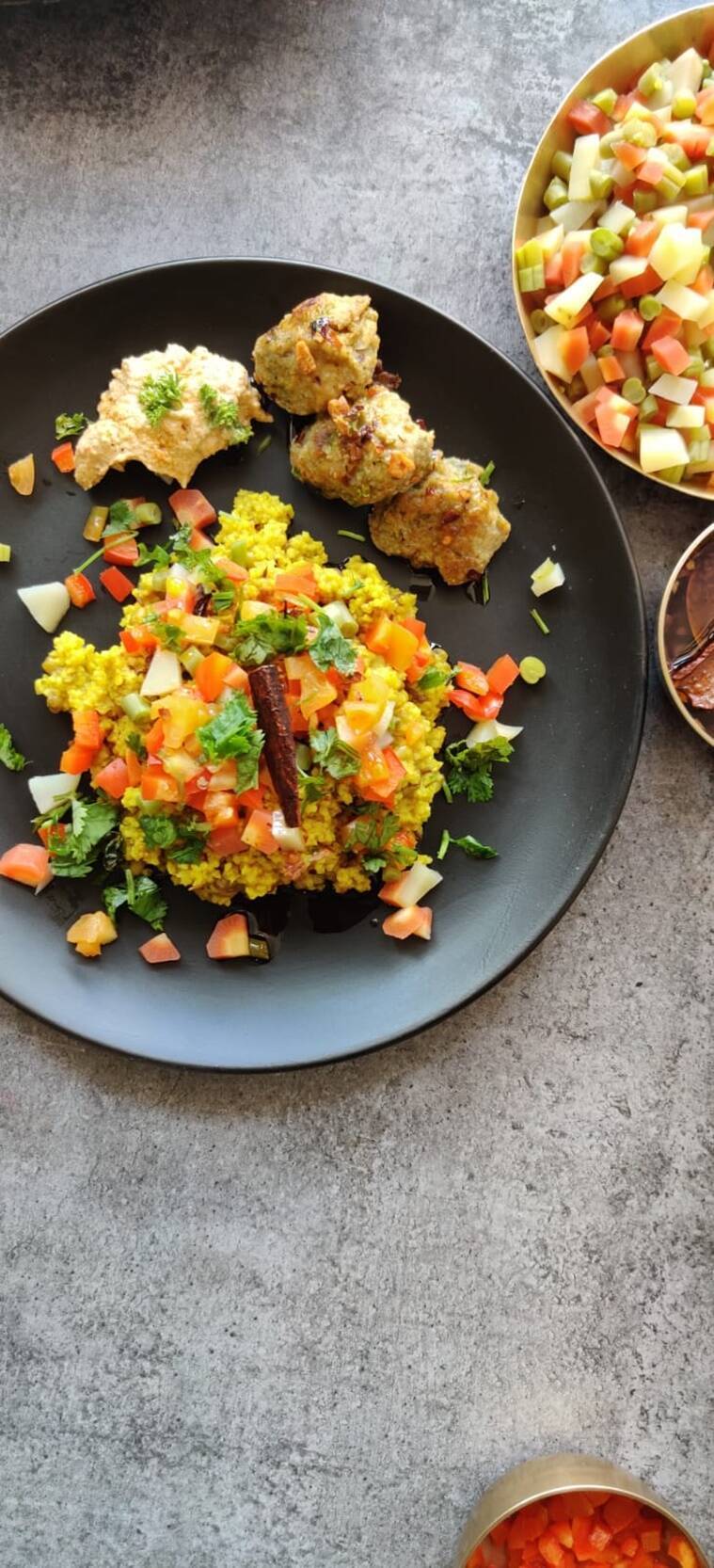 THanks to https://indianexpress.com/article/lifestyle/food-wine/recipe-khichdi-millets-shalini-rajani-7668911/