Mouthwatering Recipes
Sorghum
1) Roasted Carrots with Sorghum, Creamy Almond Dressing, and Dates by
Chef Lee Wolen of Boka, Chicago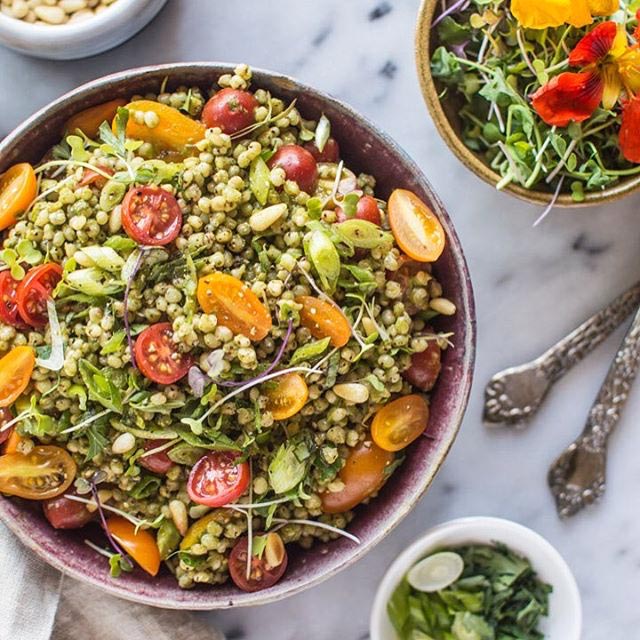 For the carrots:
1 lb. baby heirloom carrots
1/4 cup canola oil
Salt to taste
Instructions:
Wash carrots under cold water until all dirt is removed, and dry. Heat oven to 400 degrees Fahrenheit. Toss carrots in a large bowl with a small amount of oil to coat and salt to taste. Roast for about 12 to 15 minutes until tender. Reserve at room temperature.
For the toasted almonds:
1/2 cup slivered almonds
Instructions:
Reduce oven to 325 degrees Fahrenheit. Dress almonds with cooking oil and season with salt. Lay flat on the tray and toast until golden brown, about 10 minutes
For the sorghum mix:
1 cup sorghum, raw and uncooked
1 cup puffed sorghum (store-bought)
Salt to taste
Chives, sliced
Lemon juice
Olive oil
Instructions:
Bring a medium saucepot of water to a boil. Add the sorghum and cook until tender; strain and chill. When you're ready to plate the salad, combine 1 cup each of puffed and cooked sorghum and toss with salt, chives, lemon juice, and olive oil.
For the almond vinaigrette:
In a medium mixing bowl, combine all ingredients but oils. Whisk until blended and slowly pour both oils in until emulsified. Season with salt. Reserve.
1 egg yolk
1 tsp. sherry vinegar
1/2 T Dijon mustard
1/2 cup almond oil
1 T lemon Juice
1 cup grape-seed oil
2 T sorghum syrup (store-bought)
Salt to taste
Instructions:
To finish:
10 dates, no pit
Watercress
Instructions:
Combine the carrots and a small amount of the dressing to coat everything. Place in a bowl and top with dates, watercress, and the puffed grain salad.
2) Sweet-and-Sour Duck Salad with Sorghum Dressing
By chef Jason Neroni of Rose Café in Venice, California
Serves 4
For the salad:

1 duck breast
Salt and pepper, to taste
1 bunch black kale
1/2 red onion
4 black plums
10 mint leaves
6 shiitake mushrooms, grilled
Instructions:

1. Season the duck breast with salt and pepper. Put in a pan skin-side down and cook over a low flame, about 20 to 25 minutes. Flip over the breast once the skin is golden brown and sear for another 3 minutes.
2. While the duck is cooking, chop the kale very thin, as thin as possible. Also slice the red onion as thin as possible. Slice the plum into sections. Tear up the mint leaves. Chop the grilled shiitakes.
3. Slice the duck breast as thin as possible. Add all ingredients to a mixing bowl. Season with salt and pepper. Add the vinaigrette (see below) to the salad; toss. Serve immediately.
For the dressing:
1/4 cup sorghum syrup
1/2 cup rice wine vinegar
Juice of 2 lemons
2 T ginger
1 bunch of scallion rings
2 T sriracha
1/2 cup olive oil
Instructions:
Whisk ingredients together.
⓷ Beet Sorghum Risotto By chef Michelle Bernstein, Miami
Ingredients:
1 tablespoon olive oil
1/2 teaspoon fennel seeds
1/2 fresh fennel, chopped
4 cups beet juice
2 cups cooked sorghum grain, prepared according to package directions
2 T butter
2 large roasted beets, peeled, grated on a large-hole box grater
2 T fresh dill, roughly chopped
1/4 lemon wedge
Kosher salt
Freshly ground black pepper
1/4 cup sour cream
1 T prepared horseradish
1 piece fresh horseradish
Instructions:
1. Heat the oil in a saucepan; add the fennel seeds and fennel, stirring over low heat until fragrant.
2. Add the beet juice and reduce by half. Strain.
3. Place the strained beet juice in a sauté pan, add the grain, stirring until almost completely absorbed. Spoon in the butter and beets. Season and fold in the fresh dill, squeeze in the lemon, and season with salt and pepper to taste.
4. In a small bowl, combine the sour cream and prepared horseradish, season with salt. Top the risotto with the sour cream. Using a microplane, grate the horseradish over the whole dish and garnish with fresh dill.